-While a bunch of us were at Macy's the other day some guy recognized mom from the beatlemania concert. He said "Hey aren't you the girl who was dancing at Beatlemania?" I couldn't stop laughing. My mom is a celebrity for acting nuts!

-I ordered Howard Blake's sheet music for the "Walking in the air" song from the snowman. I doubt I'll be able to play it now but someday I will. Now why can't the soundtrack be available for a decent price???

It was definitely a twisted christmas this year. In some ways it was a good/funny twisted and in other ways it was not a nice holiday at all.....well I'm just going to focus on the positive stuff for the sake of this journal entry.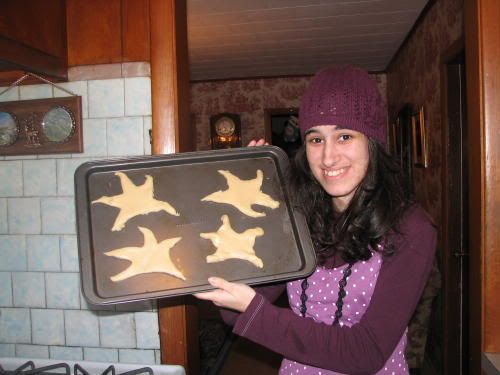 So the other day Missy and I decided to try and bake christmas cookies. Let's just say it was very twisted and a complete disaster. Can missy and I bake anything without it coming out wrong? Of course that's the fun part of it all, but still, there is something wrong with us. First we mixed the dough and then had to roll it out. Problem was that we didn't have any flour to put on the rolling surface and pin so we were forced to use sugar, plus we didn't chill the dough. It didn't say you had to but it didn't help because it was all warm and sticky and it was impossible to get the cut out starts from the rolling surface to the pan. We did some interpretive dancing of what our "Stars" looked like.

I don't know what star this was. Believe me no stars were laughing during this whole process. We were the only ones that couldn't stop laughing over the whole mess, and things hadn't even gotten to the worst part.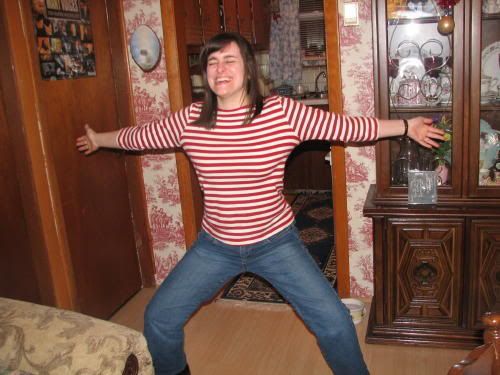 Stars do ballet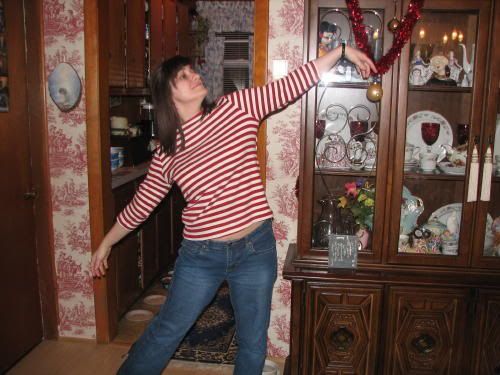 The weasel star????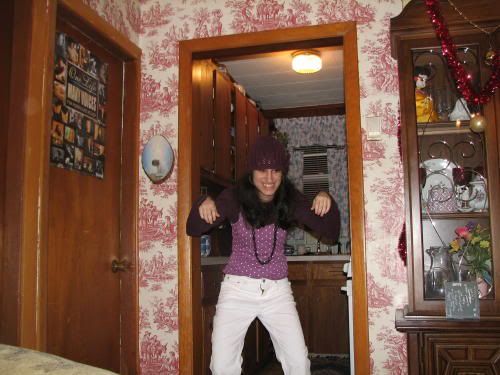 Then we put them in the oven and missy told me to get a bowl for the frosting. I thought this was a bowl and poured half the powdered sugar for the frosting in it. See I don't help the situation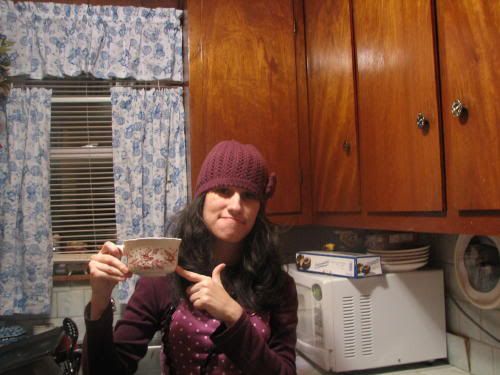 The instructions did not call for the cookie sheet to be greased so we didn't grease it. Well we couldn't get the cookies out of the pan without breaking them. They were VERY hard. It was like doing surgery.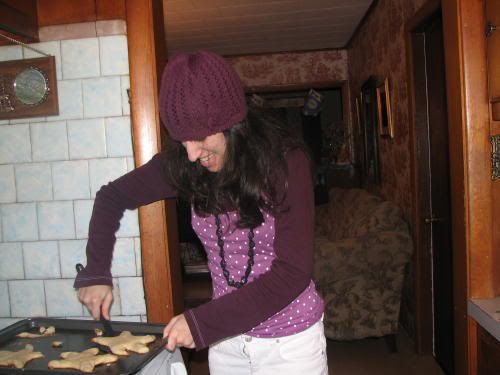 At the end we came out with three very sad looking cookies. I don't think anybody ate them and I doubt anyone will.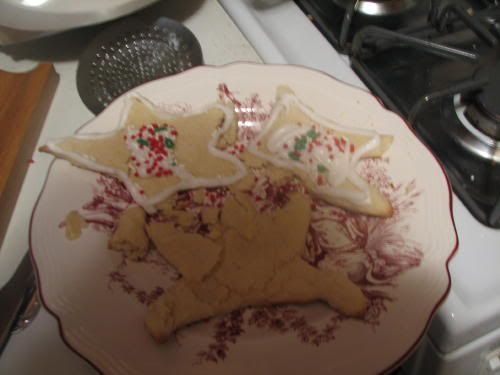 CHRISTMAS EVE!!!!!!

Mom and dad are surgically joined together!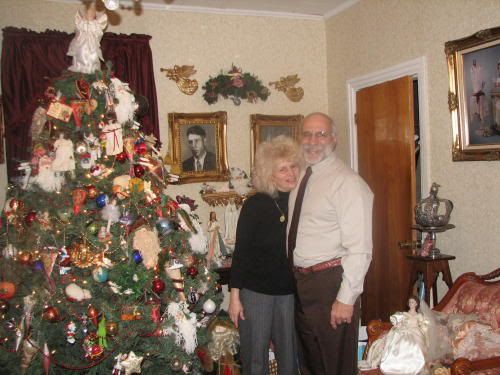 Dad sniffs Missy's hair....could be a little creepy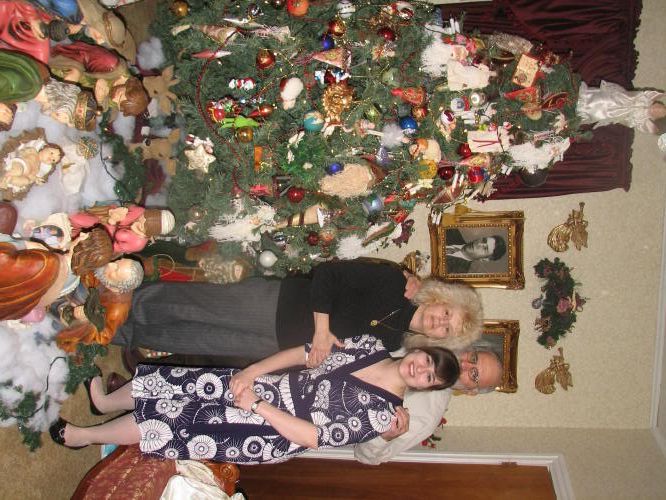 Dad is being the Fonz! One never knows what Dad does behind your back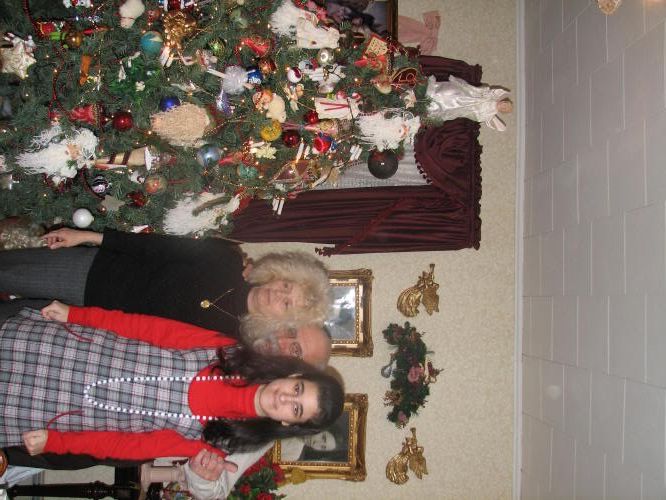 It's the cookie killers!!!!!!!!!!!!!!!!!!!!!!!!!!!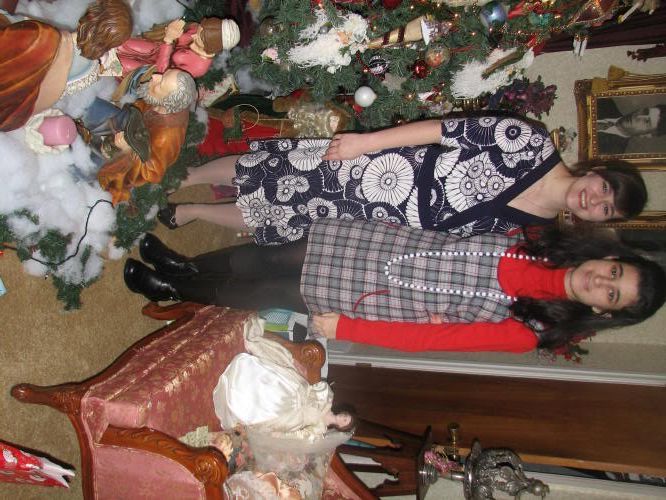 Time to open gifts! Dad's a magician. Now you see it. Now you don't.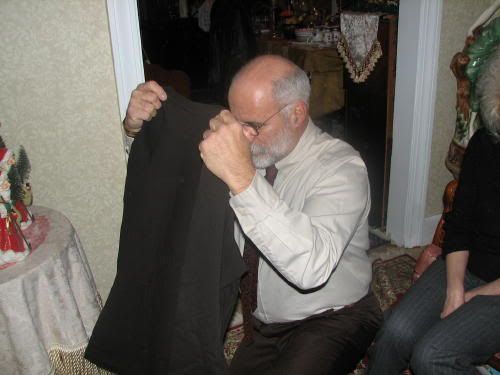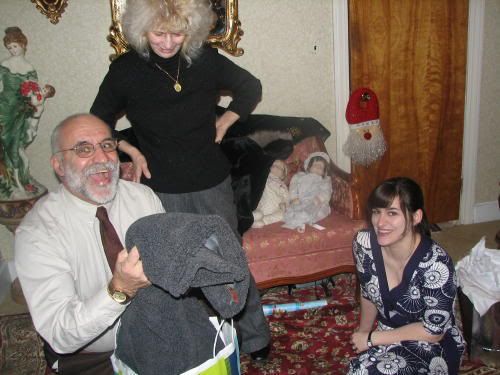 Made up Caption
Dad-Ahhhh! This thing is alive
Mom-My hips are so thin
Missy-I really don't know these people

All gifts I gave Missy! I'm a good sister. Not a good baker, but a good sister! Thoroughly Modern Millie! Yeah that's right! Whoohoo!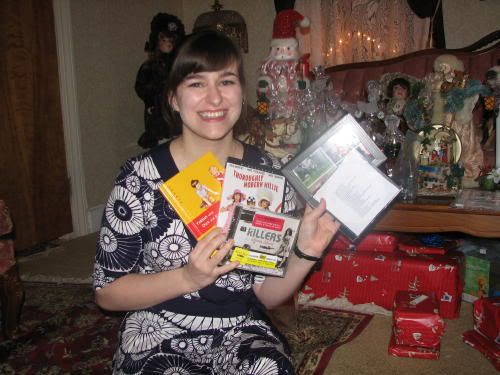 I got a big glare for Christmas! Oh Boy! (Actually I got two books, some cd's and a monk dvd from my family...plus my video ipod which I've already had for about two months now. That was from my parents and three of my aunts.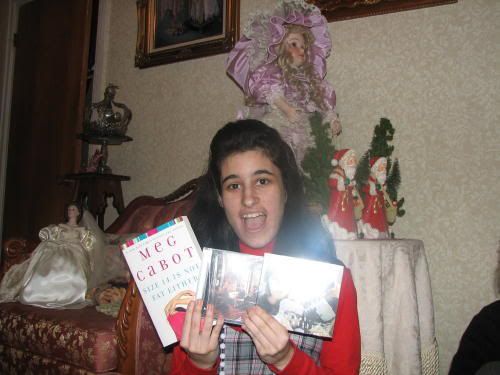 My sisters head mounted on a yoga mat. This is how she will always be remembered in gyms across the nation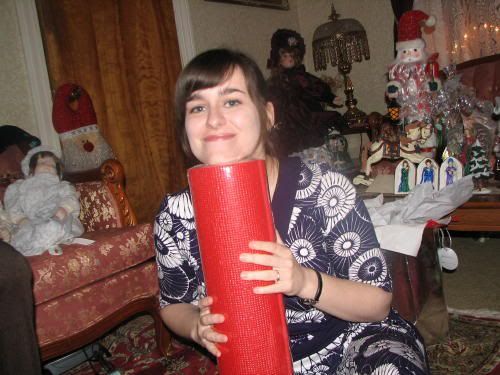 Oh yeah missy got a pocketbook....if anyone would have bought that for me I would have shrieked with horror. I'll take my nice 20 $ cloth bag with cute skulls on it.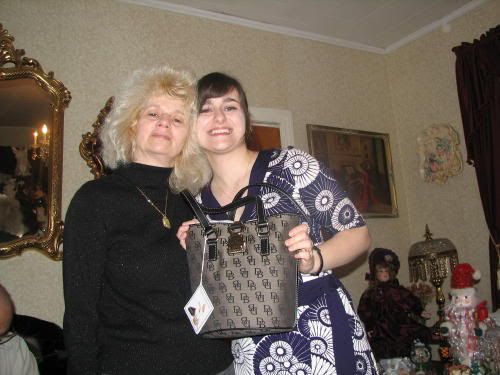 Then we went to Tidonna's. Guess this is a good time to tell a new classic tidonna story. I guess she had bought a coat for christmas and charged it on Ron's card. When she got home she didn't want to tell him that she had already got it so she just said there was a coat she saw that she wanted. Later that night he finds the coat in the closet (nice hiding tidonna) and he asks what it is. Her excuses are sooo funny and it's no wonder why she's called I love Lucy. "What coat? There's no coat there" "Oh that coat? That's an old coat" "Oh that coat? That's Carlos' "(My godmothers husband). "I mean that's for Carlos to give to Terry" Hahaha.

can you tell I went to fake smile 101 class?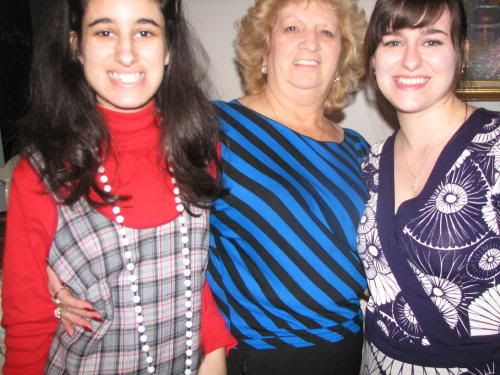 Not the last time Missy will try on a robe where it looks like she only has a head.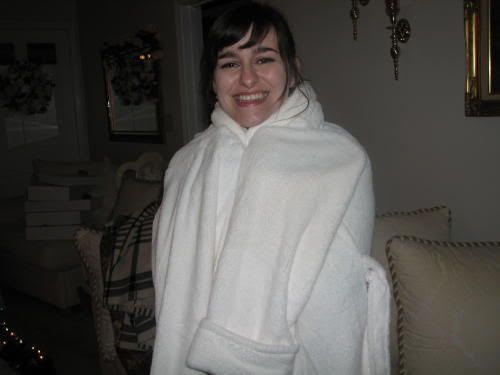 Loveable dog....not to me. Still scared of it!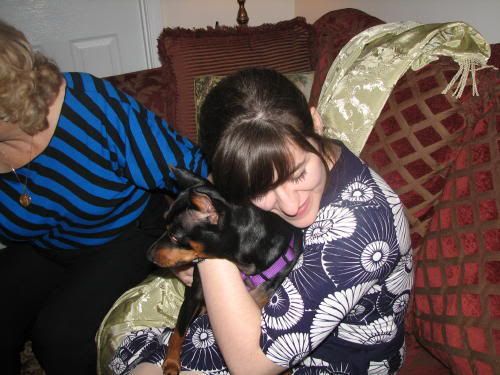 Cathy opens up her dvd camcorder.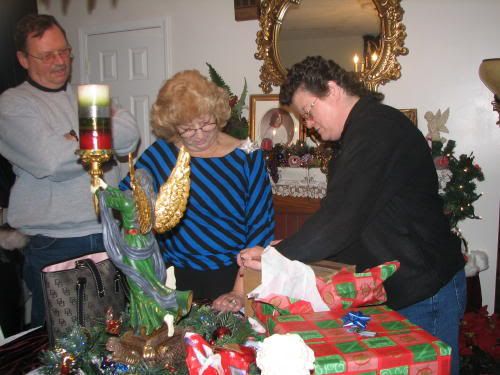 Then we went to dina's house. Now I knew she was doing something weird for christmas that she said I was going to love. She wouldn't tell me what it was but she wanted me to give her pictures of my family all eating or drinking something. I couldn't figure out for the life of me what she was doing. Then I walked in the house and saw this (Notice it's wearing pants and shoes)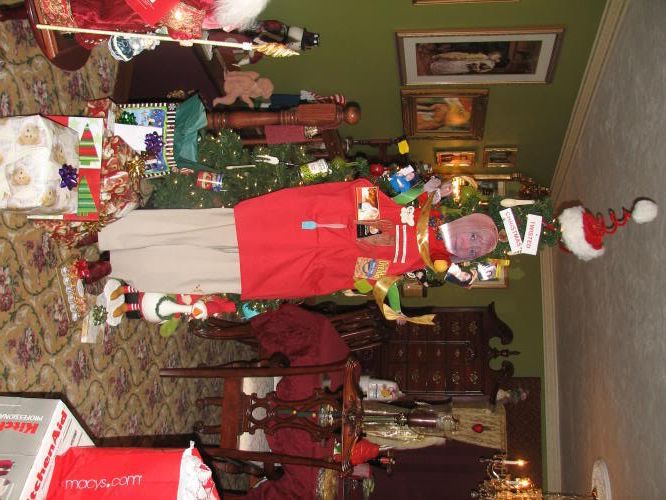 Seriously this was the highlight of the whole holiday. Here's a closer pic of the center of the tree.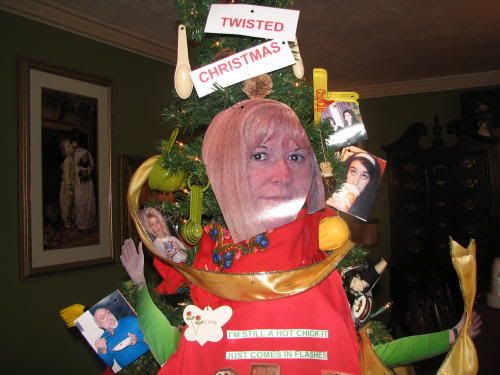 There was everything on this tree including various kitchen utensils. And food cans.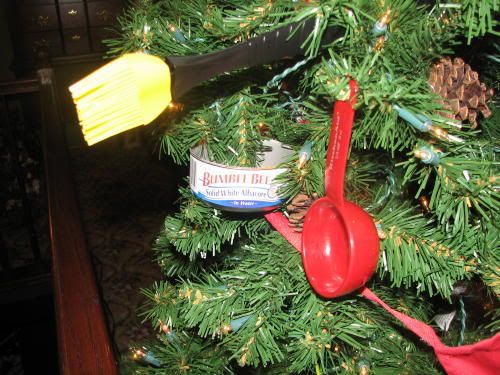 Placing me next to the olives...nice touch!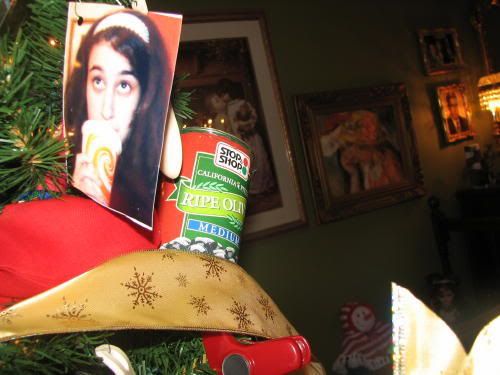 This tree should be up all year long. I'm going to be talking about this forever. It's like the wax museum. Everyone wants to get a picture with it.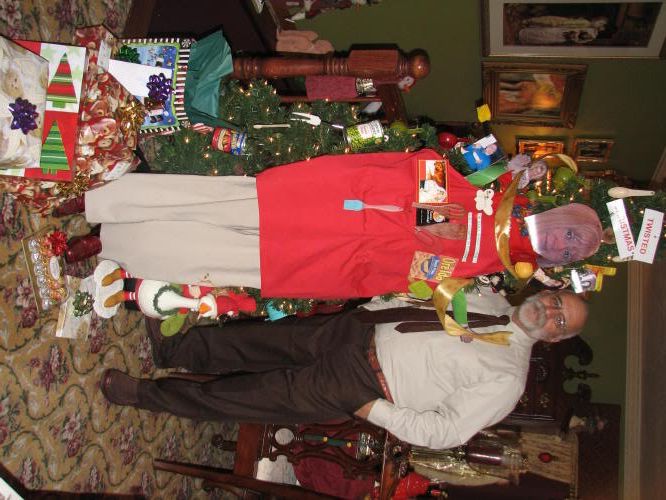 My ornament I gave dina, which she already knew about.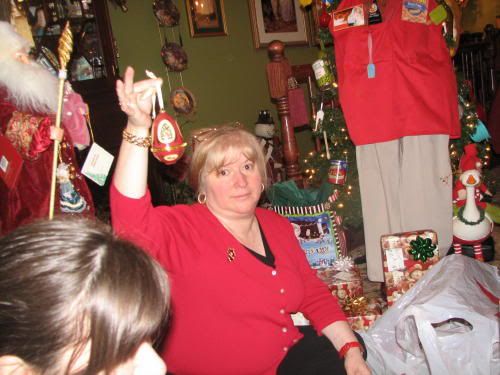 Godmother and her ornament which was personalized. I really had her stumped on this gift because I kept telling her I got it at my piano lesson (which was true. They were selling Christmas stuff)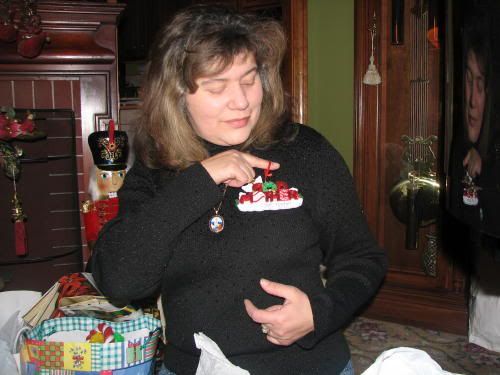 Oh look it's puppy dog missy! This dog I am not afraid of.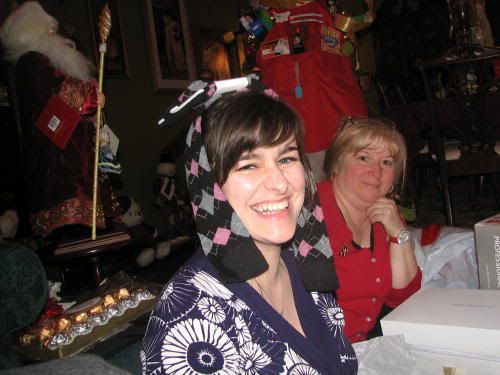 Blindfolded on Christmas Eve....I smell a bad country song in the works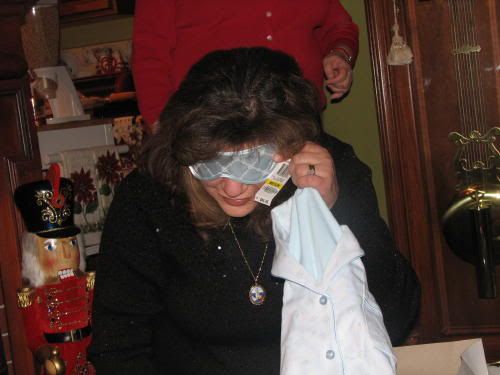 Godmother-"My Dogs got a lot of STUFFFFF"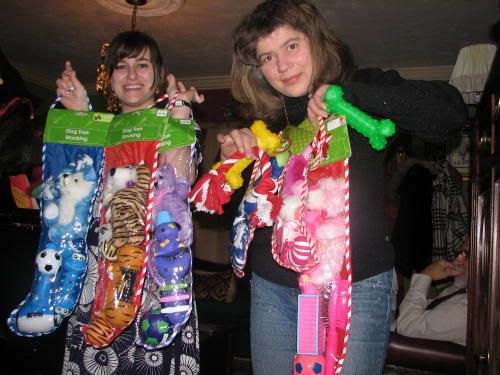 Ok so funny story. Dina had already given me my money to put towards the ipod. Godmother hadn't. I didn't want them to buy me anything else because they were both already giving me 100 bucks. So you can see some of the lovely stuff I got from them anyway....a monk dvd....FRASIER!!!!!!!My current favorite show. Dick van Dyke (It has the Redcoats episode with Chad and Jeremy and the sneaky camera episode on it) and a nice photo album. Godmother hid my 100 bucks in a nice christmas photo album. They knew I was waiting for the money. Now the ipod is paid off!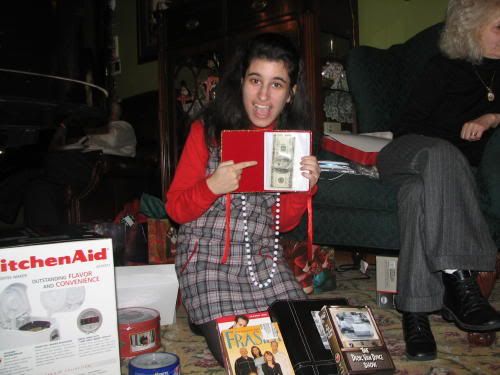 We do ballet stretches....1 and 2 and 3 and 4. (This was our attempt at a normal picture)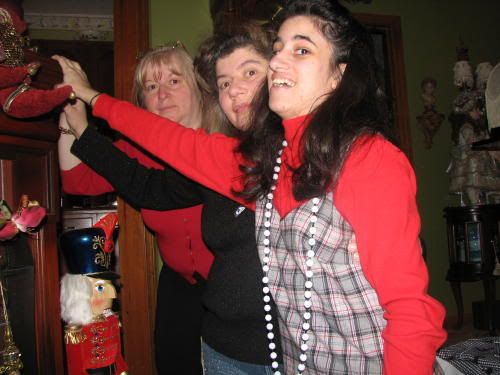 Ah there's a normal picture...but come on! Normal pictures are way overrated.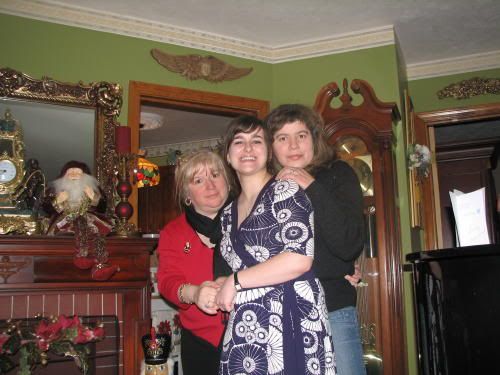 We got a visit from you know who...."Loveeeeeee" Kind of like Santa Claus...but a rich santa who is trapped on an island.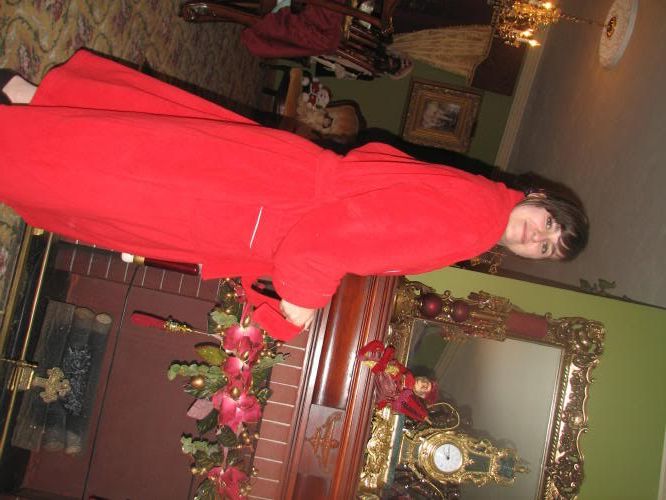 oh yeah and merlin.....de da de da de da de da de da de da.

I hope everyone had a nice holiday

Random Photo of the day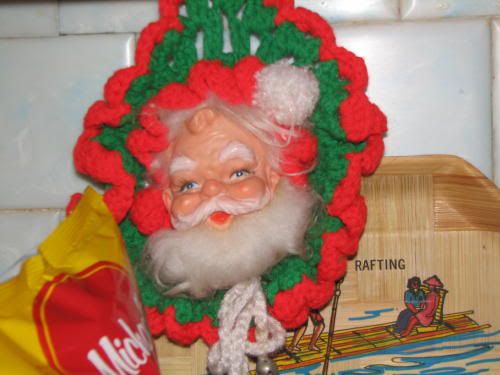 This christmas decoration has scared me for years! Mom didn't put it up last year so I thought it was lost. Guess not. Maybe it's not so much this santa that scares me but it was the companion piece to this which was mrs. claus that really scared me. I think she might really be lost

Seth Cohen Quote/Scene of the day

(The next quotes for the next few entries will be from an episode that has a very funny subplot with seth and how he is very sensitive and not very manly-in this scene the group are watching a movie. Marissa is crying)

Marissa-I'm not the only one crying
Seth-(Wipes tears away) What? I'm sorry. I'm allergic ok and there's so much pollen in here right now it's ridiculous
Marissa-(To seth) It's ok
Seth-(To summer) Tomorrow we're watching football ok?
Summer-Football season is five months away
Seth-ESPN classics ok? We'll catch old games
Ryan-Maybe next time we should see a comedy
Marissa-What? No! I can see sad movies
Ryan-Yeah I know you can
Seth-I can't Ryan. I'm sensitive.